UNDERWATER COMMUNICATION SYSTEM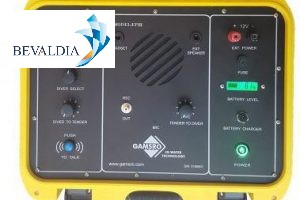 The underwater communication system has been carefully tested by the experienced GAMSRO team to be able to offer the highest quality. The underwater communication system can be combined with the latest underwater throat microphones (throat phones) with a special underwater cable of high quality and durability that is adapted to withstand difficult working environments under water. The underwater communication system is capable of simultaneously supporting one or two divers while being able to record. It also has a digital battery indicator capable of 40 hours of continuous use. Its ease of use made it the first choice even for beginners. The underwater communication system is mounted in a high quality waterproof case. Its weight does not exceed 4.9 kg.
Battery Life: 40 Hours Continuously Output Power (watts): 20 Charging Time: 14 hours, optional cell batteries Controls: Volume: Tender, Fiver 1 & 2, Speaker, PTT, On/Off, Select diver1,2 or both, mic
Speakers: Heavy duty front panel or optional headset with microphone Low Battery Indicator: LED display battery meter Battery Type: 12 volt rechargeable batteries Dimensions (L x W x H): 15,8″ x 12.1″ x 6.8″ 4,4 lbs (empty) 10,9lbs ( with battery) Case: Nanuk 915 professional protective cases
Note: Due to the COVID-19 pandemic, we have stopped manufacturing and have no available stock.
IN WATER TECHNOLOGY
BEVALDIA (Manager of the branches PSOMAKARA & GAMSRO) maintains its own manufacturing unit for underwater equipment since 1992; gradually expanding due to the new needs of our diving units. Over the past few years, we have been building our own product line GAMSRO and are marketing over 20 product codes.