Underwater Video Camera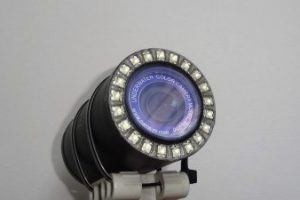 The GAMSRO 
underwater video camera
 has been specially made for
underwater inspections
. It is designed to be able to achieve a large viewing angle underwater. It has fixed lens and innovative high brightness 21 LED that provides enough light and so there is no need for a separate projector.  
UNDERWATER VIDEO CAMERA GAMSRO CL250
Outer diameter: 70 mm Overall length: 155 mm Weight in air: 450 gr Depth rated: 250 m.s.w Operating temperature: -20-+40 deg Lens: 2,8 mm Focus: Fixed Iris: Manual – auto shutter Image sensor: 1/3 inch ccd
Field of view in air: 95 deg Resolution: 720 tv lines Illumination: 1 lux/f2.0 Power: 12-30 VDC 120 mA Leds: 0-600 mA Video output: 75 ohm PAL Dome: Acrylic House: Polyacetal Connector: Included
IN WATER TECHNOLOGY
BEVALDIA (Manager of the branches PSOMAKARA & GAMSRO) maintains its own manufacturing unit for underwater equipment since 1992; gradually expanding due to the new needs of our diving units. Over the past few years, we have been building our own product line GAMSRO and are marketing over 20 product codes.