UNDERWATER VIDEO INSPECTION SYSTEM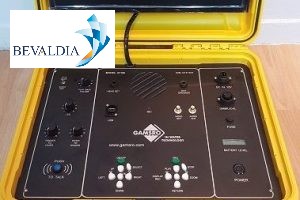 GAMSRO D07100 Underwater video systems. The GAMSRO D07100 is a portable underwater video inspection system capable of displaying live images. It is fully up-to-date with the latest requirements and has been fully tested to give the quality you would expect from modern underwater video inspection systems. The whole system is protected in a sealed case and weighs only 10kg. SPECIFICATIONS
Model Name: GAMSRO D07100 (UW VIDEO INSPECTION SYSTEMS) Power: 12 V – 13,8 V DC Umbilical: Up to 1000 meters Display monitor: Colour LCD-LED 19″ TFT Video data storage: High speed HDD 1TB, External USB flash drive Communication: Two-way (included)
Lights: LED Video recorder: DVR supporting up to 2 TB internal hard disk drive Video recording: time (on HDD) HQ up to (400 hours) Connectors (video): SUBCONN Weight: 10 kg (without umbilical) Case: Nanuk case 930 Option: High speed transfer data between storage mediums. Support external video & audio RCA output.
Note: Due to the COVID-19 pandemic, we have stopped manufacturing and have no available stock.
IN WATER TECHNOLOGY
BEVALDIA (Manager of the branches PSOMAKARA & GAMSRO) maintains its own manufacturing unit for underwater equipment since 1992; gradually expanding due to the new needs of our diving units. Over the past few years, we have been building our own product line GAMSRO and are marketing over 20 product codes.