HIGH QUALITY SHIP REPAIR SERVICES
BEVALDIA since its founding in 1992, provides flexible, efficient and innovative underwater services worldwide. It has manpower of highly trained and approved divers by all classification societies (IACS) , the INSB and by the British Classification Society – L.R Welder (Certificate ANSI / AWS  D3.6M: 2010 – CLASS B Overhead and Vertical), and certified by ISO, which are at any time in any part of the world and provide underwater vessel repair services.
Top priority of the company is the continuous monitoring of developments in  the technology of underwater work and the continuous training of employers in order to withstand any conditions.
CAUSES OF SHIP DAMAGE
The underwater parts of a ship are subject to damage caused by either the aquatic environment in which they are located the course of time or from possible collisions. This damage to the appurtenances normally happen without being expected.
PREVENT THE DAMAGE
The ship owners can improve their economic performance, maintaining equipment, according to the recommended service at intervals, keeping those damages away from the ship.
It is of great importance the maintenance of the ships tunnel thrusters , propeller, azimuthal thruster and the stern tube seals, because they maintain the ship in service and ensure uninterrupted operation and efficiency.
Damages to the stern tube seals require immediate repair to maintain operational performance and environmental assurance. In the past the conventional solution in the industry was for the ship to go out of service and immediately go to dry dock to make the necessary repairs. This process is time consuming and costly.
OUR SPECIALTY
BEVALDIA, offers a range of underwater services. Specializes in underwater repairs on ship parts and appurtenances, avoiding dry-dock which takes the ship out of service.
Underwater rudder repairs

General underwater repairs ( underwater ship repair ) to all parts of the vessel or parts there of

The underwater rope cutter replacement

Underwater cutting

The underwater waterproofing

The underwater welding

The underwater propeller repair
SHIP REPAIR SERVICES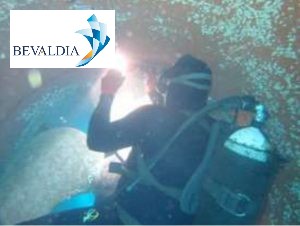 BEVALDIA undertakes underwater repairs within the BOW THRUSTER and STERN THRUSTER and replaces the damaged parts. Also repairs or replaces parts of the rudder and the propeller, maintenance and replacement of the ships cathodic protection, replaces damaged or worn plates, positioning of the sensor, isolating the water from the area of the operations.
The quality of the result, even of the most specialized underwater repairs are guaranteed, as the staff has excellent technical skills and a high sense of professionalism. With latest technology equipment and experienced staff available has contributed decisively to the development and the evolution of underwater repairs (underwater ship repair ) in Greece, Africa, Turkey and Cyprus.
The company provides its customers new innovative solutions and delivers the best results , even in the most difficult conditions , thus contributing decisively to save time and money , keeping the ship away from the dry-dock .