Consulting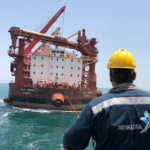 The company BEVALDIA (Manager of the branches PSOMAKARA & GAMSRO) was founded in 1992 in Greece. It has established itself in the field of under water operations, offering high quality under water services worldwide. The company is having years of experience is in the position to provide advisory services on under water operations to marine companies, helping in this way to better dealing with matters on ship repair and maintenance.
CONSULTING SERVICES
The under water hull inspections (hull surveys) in which it is determined if the shellfish which cover the ship's hull are alive or dead, the thickness of the fouling which they have created and finally if under water cleaning of the hull is required or not. During the under water hull inspections (hull surveys) video is used with (CCTV), and two-way communication between surface and diver giving the customer the ability, in this way, to have a direct picture of the ship's hull condition. At the end of the under water hull inspections (hull surveys) a detailed report with photos and video of the inspection is delivered.
The hull coating inspection, in order to determine if the paint coating is in good condition or has worn and requires immediate repair.
To carry out (Non-Destructive Testing) NDT inspections, with the methods, visual inspection, Ultrasonic (Thickness of plates , Thickness of welds , Thickness of cracks), magnetic and electromagnetic fields.
Complete running gear inspections and inspection of appendages.
The under water damage assessment inspections which could have been caused due to a possible collision or grounding.
The under water inspections for sale and purchase purposes.