Mono Brush System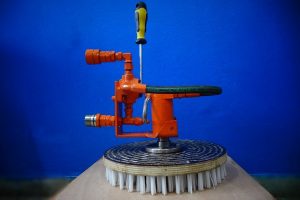 The GAMSRO mono brush system is small and light and this makes it easy to transport. It is ideal for cleaning small surfaces underwater, or surfaces that cannot be reached by large cleaning systems. GAMSRO's mono brush system is exremely efficient and it's special way of construction makes it the best choice for technical divers. Different types of brush may be used on the mono brush system, depending on the surface or even the fouling. Gamsro mono brush uses a high torque, low speed, hydraulic motor specially designed for hull cleaning and prop polishing.
Gamsro monobrush is powered by 8.0 HP 4 cycle Commercial Honda Gasoline Engine is equipped with manual or eletric start and low oil shutdown, with overhead valve design.  The hydraulic cleaning brush will run the following stocked optional attachments. Hydraulic Pump is direct mount through a coupler system, to a 14 liters per min. at 120 Bar Pump. This delivers maximum efficiency and consistent performance. Hydraulic reservoir is intricately mounted to hydraulic pump. Also mounted in the 1 piece module is the hydraulic outlet, return coupler and hydraulic bypass control valve. 20 liters hydraulic oil tank. Mounted on aluminum base plate with tires. Dimensions: 1.00 m L x 0.50 W x 0.70 H Lightweight hydraulic hose with crimped ends and marine brass quick disconnects With the following sizes and lengths: 1/2 inch diameter and 50 mtrs length high and low pressure hydraulic hose (1) Supply and (1) Return with working pressure 140 bar. Machine is supplied without oil.
IN WATER TECHNOLOGY
BEVALDIA (Manager of the branches PSOMAKARA & GAMSRO) maintains its own manufacturing unit for underwater equipment since 1992; gradually expanding due to the new needs of our diving units. Over the past few years, we have been building our own product line GAMSRO and are marketing over 20 product codes.